Posted by AV Flox on Oct 6th 2016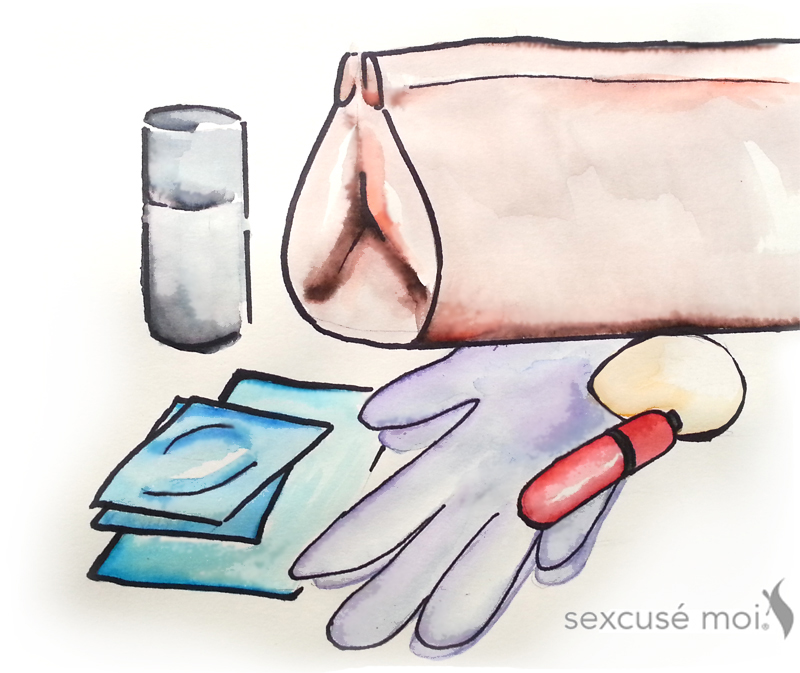 Every traveler can list their essentials off the top off their heads, the things they always pack no matter what the destination. The same is true of sex, whether you're planning a night in or heading out to one of those Eye Wide Shut sorts of sex parties. At home, you may stash things in a drawer, or -- if you're feeling more discreet, a Toibocks ($109.95). On the go, you may use a briefcase, like this dowel rod classic ($133.99), or a doctor's bag, like this dark brown gladstone leather beauty ($ 233.49). The means of storage and transport may change, but the contents are forever.
These contents begin with lube. Silicone is your best bet, like Silicone Lube by the Museum of Sex, which works with latex and does double-duty as a massage oil. Then come the safety protocols. Condoms, are, of course, a given. Always have a variety of condoms you like on hand, or hit up Lucky Bloke or Loveability for some samplers to feel out your options. Dental dams don't have to bore you -- Glyde and Line One offer flavored dams that will take going downtown and rim jobs to another level. Nitrile gloves are perfect for touching every part of one another without worry -- perfect for hookups or play parties. Nitrile isn't an issue for those with latex sensitivity, and you can use oil-based massage oils while wearing them without compromising their integrity. Keep in mind that latex condoms don't have this property, so if you are fond of oil-based lubricants, you'll want to go with polyurethane condoms instead of latex (the LifeStyles Skyn line offers options, and Trojan has Supra Bareskin).
Single-use sex toys are the crown jewel of the sexual essential kit: Tenga Eggs enable one to lavish attention on a male lover without having to suck on a condom and bullet vibes achieve the same for your lady friends, if dental dams aren't your thing. For sex itself, the vibrating Primo Apex is an undeniable value-add. Don't forget the handy pack of wipes ($8.95). Everything else rests on the imagination. And you've got that handled.